The VECKTA logo represents VECKTAs mission. The "V" is a downward arrow and represents out with the old and the "A" is an upward arrow representing in with the new. The E is green and without the vertical line to represent a cleantech-focused technology platform. All underpinned by the name – VECKTA, which comes from "vector" – providing magnitude, direction, and scale. This is what VECKTA is bringing to the energy transition.
What?
Simplify and accelerate the deployment of onsite energy systems for businesses around the world.
How?
In one integrated software platform baseline, assess & design energy strategies. Leverage a transparent and competitive marketplace to source, deploy & monitor optimized energy solutions.
Why?
Accelerate adaptation to unprecedented conditions to enable a safe, survivable, profitable and sustainable future.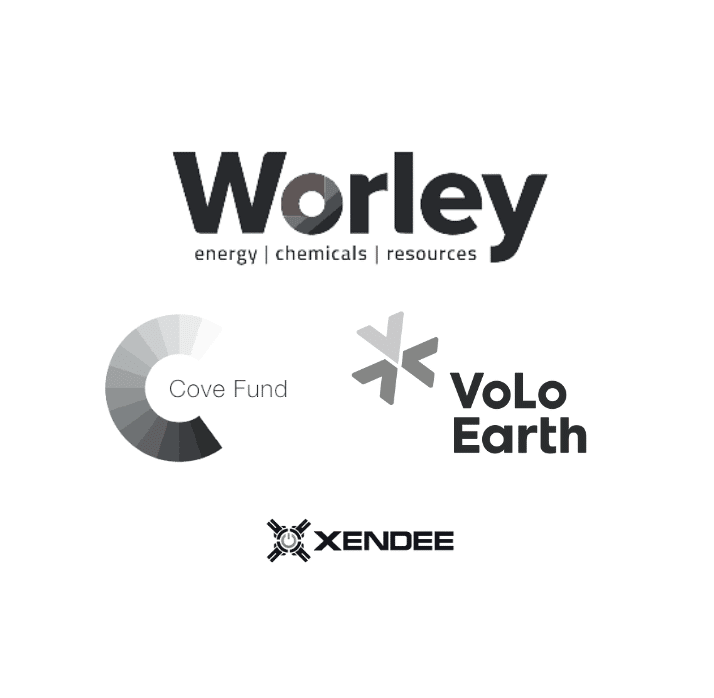 VECKTA's founding team and investors realize the paradigm shift to the future world's energy systems. Simplifying complex engineering challenges, VECKTA connects energy users to optimal equipment providers, engineers, builders, and investors whereby collectively can satisfy complete onsite energy, microgrids and other Distributed Energy Systems.
Adapt Purposefully
We believe fast, accelerating, widespread change is essential and inevitable this century. We choose proactive change over reactive.
Challenge Limits
We never accept that something cannot be done solely on the basis of it not having been done before.
Empower Co-Creation
We prioritize collective success and diverse contribution.
Gareth Evans
Chief Executive Officer & Co-Founder
Gareth is our Leader, passionately guiding VECKTA to success. He believes that it is a privilege to lead, collaborate and work with talented and motivated people. Gareth is committed to constantly evolving VECKTA as the world's leading Energy Transition platform, in harmony with our vision, mission and values, all while having fun along the way!
Previously Gareth lead Worley's Global Distributed Energy Systems strategy and Power Networks & Systems team, helping the company and its clients successfully navigate energy transition, leading to VECKTA.
He is a dad, husband and friend who seeks out adventure at every turn. Most recently he completed Brek Epic, a 6 day race, with his wife – check out the grueling accounts in his LinkedIn Articles.
Calvin Fine
Head of Market Operations
Calvin is an energetic, engaging product leader. He empowers the VECKTA team to focus on the most important priorities, take responsibility for them, take action, and deliver results. Calvin loves to get things done well, get them done quickly, learn from experience, and have a good time along the way.
Prior to VECKTA, Calvin held senior leadership positions in infrastructure, mining, and consumer products companies, focused on supply chain and procurement strategy. 
Calvin's Superpower: Grow the Market
Dan Roberts
Head of Sales
Dan is a problem solver, developing the strategy and process for VECKTA to help energy users around the world access cheaper, more reliable, and cleaner energy solutions. The VECKTA marketplace is particularly exciting because more projects will be developed more efficiently than ever before. Prior to VECKTA, Dan led top performing sales organizations in a variety of industries including digital identity and telemedicine.
He loves spending free time sailing, surfing, mountain biking, golfing and enjoying the marvel of fatherhood.
Dan's Superpower: Listening
Nick Aschenbach
Head of Product and Engineering.
Nick is a full stack web development software engineer with a multidisciplinary background. He specializes in developing AWS cloud enabled back-end APIs in Node.js. He has experience dealing with PII/HIPAA/PHI data and payments in a variety of environments. He has worked in new product development most of his career. He is passionate about doing the right thing for users and building products with a clear value proposition.
Nick's Superpower: Do the right thing
The VECKTA Team
Meet the team behind VECKTA's Energy Transition Marketplace
Dan Wagar
Full Stack Engineer
Dan is a full stack engineer. He loves working at VECKTA because he is able to leverage his knack for abstract, logical thinking in order to help push the world toward a greener, more renewable energy future – a goal he is quite passionate about. Dan graduated with a CS degree from Montana State University in 2014 before moving to San Diego where he was a database support engineer serving some of the nations largest companies. Wanting to reignite his passion for computer science he attended a full stack bootcamp in 2020 before signing on with VECKTA.
Dan now works remotely from Portland, Oregon where he enjoys hiking and other outdoor activities with his girlfriend Maria and his dog Reggie.
Dan's Superpower: Actualizing the abstract
Daniel Musgrove
Director of Business Development
Experienced Executive in Sales, Business & Project Development with a demonstrated history of working in the renewable energy, energy efficiency, recycling, and transportation industries. Skilled in Strategic Planning, Market Trending, and Complex Project Development.
Erin Hunzeker
Head of Capital Markets
Erin is a revenue generator, growing the business from startup to industry leader by sourcing and monetizing industry relationships. Previous leadership positions in commodities and financial services industries include heading up global sales, relationship management, trading, and asset optimization. VECKTA allows him to uniquely leverage experience in both industries.
He is also a baseball coach and tennis instructor and taught his 3 kids to play and excel in both, following in his footsteps. Learn more about Erin here.
Erin's Superpower: Build the Business
Felipe Sarubbi
Product Executive
Felipe is responsible for rallying our community of partners and clients, as well as advising the executive team on aligning our offerings with future needs. He is a serial entrepreneur, and a global executive with almost 2 decades of experience in smart grids, electrification of transportation, and cybersecurity. 
Felipe currently lives in Canada with his wife and two cats. His main hobbies used to be to playing the guitar and drinking wine, but as he is getting older his nerdy instincts are becoming more prominent. Today he prefers to study technical topics, engineer robots and full-stack programming.
Felipe's Superpower: Predicting the future
Jola Prosceno
Scrum Master & Engineering Manager
As VECKTA's Scrum Master, Jola passionately guides VECKTA's team members by facilitating, planning, and tracking activities to deliver VECKTA's powerful Energy Transition Platform. Jola is dedicated and devoted to VECKTA's mission and vision; transforming Distributed Energy Systems acquisitions. Her past experiences embrace a customer-centric approach, broadly spanning multiple industries.
Jola applies her skills as an active volunteer, always striving to enrich anything she's involved in. She is a mom, wife, daughter, and friend whose favorite pastimes include travel, scuba diving, creating magical moments, and family gatherings.
Jola's Superpower: Intuitive Synchronizer
Levan Badzgaradze
Software Engineer
Levan recently graduated from San Diego State University with a bachelor's degree in computer science and joined the VECTKA team as a software engineer, where he puts his knowledge to practice by creating a platform for sustainable energy systems. Levan strongly believes in VECKTA's vision and aspires to be a full-stack web development engineer. Before graduation, Levan interned at VECKTA as a software engineer, test driving business effectiveness through automation, and has previous experience in building a computer-assisted education platform.
During free time, he loves to explore San Diego, play volleyball, and photograph landscape.
Levan's Superpower: Resilience
Mariana Cázares
Front End Engineer
Mariana is a front-end developer working on building the VECKTA platform. She has a bachelor's degree in Software Engineering and is passionate about building software for a better future. She has a CALARTS certification in UI design and has a strong belief that good design leads to a great product.
When she isn't writing code, Mariana likes to read, experiment with baking, and cook great food.
Mariana's Superpower: Keep it simple
Mark Grasso
Senior Director Business Development
Mark comes to VECKTA after leading Global Accounts in Sales and Service
Management with AT&T for 22 Years. Mark has also successfully helped several startups successfully market new technology solutions, introducing them to enterprise clients transitioning to disruptive technologies.
Mark is a leader well-equipped to translate the value of VECKTA'S fluently
ecosystem to enterprise customers searching for their path through their energy transformation journey.

Mark instinctively matches customer-focused business initiatives with the
economics and wholistically impactful VECKTA solutions that allow enterprise business customers to achieve their target objectives. Calling NY, NJ, and PA "home," Mark has spent his career immersed in these robust corporate centers while also traveling the US and EU for presentations on
new technologies. His personal and professional motto is to "help others first & success will follow."
Martin Roeck
Microgrid System Modeler
Martin's attitude and appetite for new skills and knowledge has made him a welcome member at VECKTA. Following the ethos "The follow-through is everything," he directly supports leadership through technical consulting and product design. Martin loves to take ownership of new challenges, delivering results that benefit VECKTA's vision.
Prior to VECKTA, Martin was heavily involved with Life Cycle Assessments (LCA) and predictive modeling of electric vehicles and EV supply equipment (EVSE).
Martin's Superpower: Turning vision into success
Patrick Baker
Director of Business Development
Patrick Baker, a seasoned wine industry executive working in sales, business development, marketing, finance, viticulture and winemaking joins VECKTA as Director of Business Development. His focus in the Food & Beverage (F&B) realm stems from his 20 years of industry experience, starting as a winegrape grower in Sonoma CA.
In his new role at VECKTA Baker brings unique and diverse business and F&B operational insight, having managed across siloed teams, instituting real change management and pursuing revenue in every effort to earnestly benefit his colleagues in those industries.
Paul Ziessler
Program Manager
Paul joins VECKTA with prior on-site energy modeling experience. He aims to use his familiarity with utility rates, technical know-how, and appetite for problem solving to develop accurate models of potential on-site energy projects. Paul believes knowledge is power, and makes it his mission to empower VECKTA's leadership and customers with reliable and accurate information throughout their decision-making process.
Whether it's at VECKTA or while outdoors seeking adventure, Paul continually relies on developing confidence through competence.
Paul's Superpower: Enjoying The Ride
Ryan Smyth
Account Executive
Ryan is the connector between the VECKTA technology and the reality of improving the lives of miners faced with a new paradigm around renewable energy, ESG and decarbonization. He deeply understands the mining industry, from both an operator and capital markets perspective. He is passionate about technology and the role it has in ensuring Australia's future as an ongoing globally competitive miner.
He is a husband, dad, passionate tech advocate and rugby fan.
Ryan's Superpower: There's always a way
Tristan Jackson
CSO & Advisor
Tristan is our Trailblazer, charting new frontiers in the Energy Transition and DES landscape. He explores market opportunities and establishes proven pathways to cost savings, carbon reduction, and improved energy reliability and resilience for you, our global community, partners, and clients. Tristan lives in the field alongside energy system end users, equipment suppliers, and development partners, co-defining the energy systems and business models of the future. As CSO of VECKTA, Tristan combines his deep experience in team building, communication, and problem solving, with technical expertise, tenacity, and excitement for breaking new ground and producing extraordinary results.
He is a husband, outdoor and international explorer, lifelong leader and believer in a thriving, sustainable future for all.
Gareth Evans
CEO & Co-Founder
Gareth is our Leader, strategically and passionately guiding VECKTA to success. He believes that it is a privilege to lead, collaborate and work with talented and motivated people. Gareth is committed to constantly evolving VECKTA as the world's leading Energy Transition platform, in harmony with our vision, mission and values, all while having fun along the way!
Previously Gareth lead Worley's Global Distributed Energy Systems strategy and Power Networks & Systems team, helping the company and its clients successfully navigate energy transition, leading to VECKTA.
He is a dad, husband and friend who seeks out adventure at every turn. Most recently he completed Brek Epic, a 6 day race, with his wife – check out the grueling accounts in his LinkedIn Articles.
Bill Nussey
Board Member
Bill is a Partner at Engage and Tech Square Ventures. In this role, he will oversee the growth of the Engage program and fund.
Bill spent most of his career as a tech CEO. His first company, which he co-founded in high school, provided graphics software for early, text-based personal computers. His second company, Da Vinci Systems, was started out of his college dorm room and grew to serve millions of users across 45 countries. Later, he spent several years as a venture capitalist with Greylock. In 1998, he left the firm to become CEO of a portfolio company, iXL, which went public and grew to $500 million in revenue. After iXL, he joined Silverpop as CEO. The company grew to nearly $100 million in recurring revenue and became a global leader in cloud-based marketing. In 2014, IBM acquired the company and made it the foundation of the IBM Marketing Cloud. Shortly after the acquisition, Bill was promoted to IBM's VP Corporate Strategy, helping the CEO and SVPs set IBM's strategic roadmap. Bill's companies have created thousands of jobs and billions of dollars in value.
John Allen
Board Member
John is responsible for Worley's mergers and acquisitions globally. John was the transaction and equity raising lead in Worley's latest and very significant acquisitions of Jacobs ECR in 2018, $A4.7 billion, and Amec FosterWheeler UK in 2017, $A303 million. Prior to this and since 2007 John has held senior roles leading the global tax team, finance, and leading the business transformation team. The transformation team was responsible for restructuring the business to be fit for the future.
John lives in the beautiful city of Sydney with his wife and two boys. He is watching sport or cooking with the boys when he is not working.
Kareem Dabbagh
Board Member
Kareem brings years of angel investing, mentoring, and startup advisory experience, and is a subject matter expert in renewable energy, energy storage, electrical grids, microgrids, and electricity markets through a 15 year career.
Paul Voois
Board Member
Dr. Paul Voois is a Fund Manager with Cove Fund and is also a member of Tech Coast Angels. As an entrepreneur, Dr. Voois established a track record of building valuable companies with unique, defensible technology in the networking, communications and software industries. In 2002 he co-founded ClariPhy Communications, a venture-backed supplier of optical networking semiconductors that was acquired in 2016 by Inphi for $300M, which was subsequently acquired by Marvell (NASDAQ:MRVL) for $10B, and now operates as Marvell's Coherent DSP business unit. He served as ClariPhy's CEO until 2011 and as Chief Strategy Officer until its acquisition. Prior to founding ClariPhy, he served as CEO of 8×8 (NASDAQ:EGHT), a market leader in voice and video over IP technology. Dr. Voois received an MS and PhD from Stanford and a BS (summa cum laude) from Penn State, all in electrical engineering. He is an inventor on 36 issued United States patents.
Uma Gopaldass
Board Member
Uma is a Board-certified governance counsel with over 30 years of global operating experience across the Natural Resources, Technology, and Engineering industries. She is an active board director and sits on several boards and investor councils, including the Leadership Board of TEDx MileHigh and the Corporate Board of VECKTA Energy. Her company, Leading Lotus, guides executives to navigate a myriad of business challenges including securing financing, building investor confidence, targeting strategic markets, and executing on plan.
INTERESTED IN JOINING US?
We are building the most advanced platform for the energy transition market and we're looking for great people to join our family.